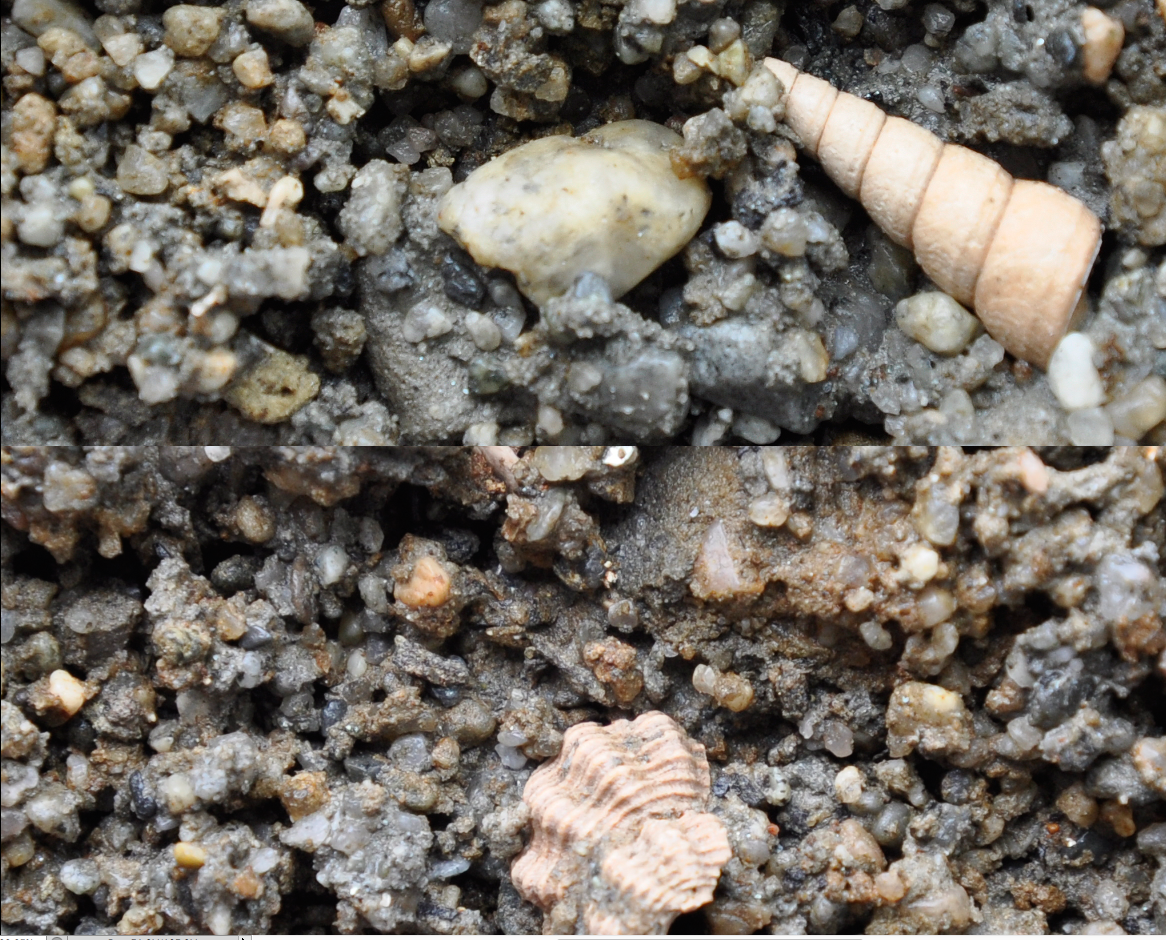 TORR2 Descent from -10 to -1280′
This sequence animates a series of soil samples taken from TORR-2, a monitoring well located In Torrance. The samples are logged at ten-foot intervals, in this case from -10' to -1400'. Geologists preserve and encode the samples, preserving them in boxes for later analysis. The KEY to TORR-2 shows the depth and the approximate age as we descend.
Original score by $3.33 (Celia Hollander)
Over the course of the composition, the harmonic notes descend from high to low in pitch while the granular synthesis ascends from low to high in pitch. (So the note patterns and harmonies gradually lower while the white noise starts low and grumbly and then ends high.) These equal but opposite processes are meant to be a structural gesture to descending underground and all the different variables that may increase or ascend proportionally, such as pressure, darkness, density of different substances, gravitational pull, etc.
TORR-2 Desciende desde los 10 pies bajo el suelo, hasta los 1400 pies.
Esta secuencia visual le otorga animación a las muestras de suelos tomados de LOS-2, un Pozo de Monitoreo ubicado al sur del centro de Los Ángeles, a menos de una cuadra al oeste del Rio L.A. Las muestras se registraron con intervalos de 10 pies, hasta llegar a los 1400 pies. Los geólogos toman y codifican estas muestras y las guardan en cajas para poder analizarlas posteriormente. En TORR-2 se muestra la profundidad y el periodo histórico al que pertenecen a medida que sa va descendiendo en el pozo.
Composición Musical por $3.33 (Celia Hollander)
En el curso de la composición las armonías descienden de tonos agudo a tonos más graves, mientras que la síntesis granular asciende de tonos graves a agudos (de manera que los patrones musicales y las armonías disminuyen gradualmente, mientras que el ruido blanco comienza con un tono bajo, como un gruñido, y termina alto y agudo). Estos procesos opuestos, pero proporcionalmente iguales, pretenden representar el gesto estructural implícito en el descenso subterráneo, y en todas las demás variables que aumentan, o ascienden, proporcionalmente, como la presión, la oscuridad, la densidad de distintas sustancias, fuerza gravitacional, etc.